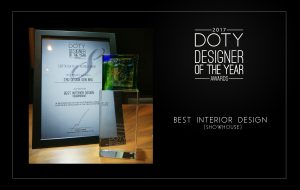 DESIGNER NAME

ZRO Design Team
DESIGNATION
DESIGNER
PROJECT LOCATION
DESARU UTAMA
PROJECT TYPE
BUNGALOW
SITE AREA (SQ.FT.)
9,200
COMPLETION DATE
APRIL 2016
PHOTOGRAPHER
SCK PHOTOGRAPHY
---
PICTURE PERFECT
BY BLENDING A VARIETY OF MODERN-DAY BUILDING MATERIALS AND CONTEMPORARY FURNISHING SELECTIONS.
THE DESIGN TEAM HAS PRODUCED A SHOWHOUSE DESIGN THAT IS COMPELLING TO THE EYES AND THE HEARTS OF YOUNG URBAN FAMILIES.

---
In order to appeal to the target buyers of this property development, the interior design team came up with a plan to fuse simple design elements with neutral colour tones throughout the showhouse, giving its interior spaces a chic yet sophisticated look. At the living room, the double volume ceiling is being complemented by the use of stylish blinds as well as an avant-grade centrepiece that captures the modern artistry of its design.
为了吸引对于地产项目感兴趣的潜质买家,ZRO Design的室内设计团队经过一连串的考量和讨论,终于衍生了一个设计计划,即意将整间示范单位结合简单而迷人的设计元素示人,时注入大量的中性色调,为内部空间创造别致又不失精致的居室空间。首先于客厅,高挑的天花板使用时尚的木制百叶窗做装饰。这样的设计出了是现代艺术的展示,也是设计项目中前卫的核心。

Chrome Finishes provide the modern interior a hint of luxury and sophistication.
---
Along with the living hall, the ground floor is also equipped with an open dining and kitchen area furnished with a functional kitchen island that is extended into long rectangular dining table. Aside from its living area, the design team has converted an extra room on the ground floor into a cosy family room. Grey wall paint is selected for this room to bring a modern edge into the design while ensuring that the space appear more enclosed and intimate.
底层配备了开放式厨房以及功能性的厨房岛,甚至延伸至长形的餐桌组合成符合日常需求的厨房区。客厅除了以底层为基地,设计团队亦特别利用额外房间,打造出一个温馨的家庭式客厅,贯以充满现代感的灰色墙面漆同时,更透过空间的保存促进业主与家人之间的交流。
The empty hallway on the upper floor is being furnished simply with modern pieces to match its urban theme.
一楼的走廊陈设简约,拥有现代风格设计,与城市主题十分契合。
Open shelves are installed to ensure that the walk-in wardrobe remains open instead of being overwhelmed with gigantic cabinets.
以免床架后方的巨大橱柜被淹没,设计师特意设计滑动式墙面,为步入式衣柜保持了某程度的开放性。
---

Moving onto the upper level of the showhouse, you would instantly notice the change in mood with the selection of sleek timber flooring. Warm and serene, the second family room converted from an empty hallway serves as a quiet retreat or a simple lounge area. Meanwhile, the design of its master bedroom expands its timber usage into a full wall feature to enhance its calming atmosphere. A sliding door is fitted into the wall feature that leads into the walk-in wardrobe and bathroom. On the other hand, the diverse designs of the other bedrooms showcase the potential and versatility of its room space. It is also interesting to note that the team has incorporated loose furniture pieces made of Warwick Fabrics from Australia to spruce up the entire showhouse.
有别于底层的瓷砖地面,当你移步至示范单位的一楼,即能从圆滑木质地板感受到环境的变化。温暖而平静的第二家庭室设立在走廊的转角,以创造一个幽静的空间为前提,衍生出一个简单而舒适的休息区。在主卧室方面,设计师巧妙地应用了木材创造出一个极富设计感的特写墙面,而透过墙面中赋予的滑动式墙面,即可进入步入式衣柜和浴室,这种内有乾坤的设计确实颇有惊喜。至于其他卧室,基本上根照了该设计主题而衍生了各种不同的设计,以展示其他室内空间的潜力和通用性。值得一提的是,设计团队也引进了来自澳洲注明织品家具品牌Warwick Fabrics,无疑为内部设计增色不浅。